It's that time of year when you can almost hear the collective sigh of parents as they send their kids off to school once again. After a fun summer where routine and homework were enthusiastically thrown away, parents begin to long for structure as kids become more restless.
The warm weather will soon fade away to brisk mornings and cool nights, but as the school year gets underway, reminding children of safe walking behaviors can easily be integrated into the school prep checklist–right alongside new school supplies and mapping out schedules.
With varying ages in a family or different stages of life, it can be difficult to determine what to teach or what to remind our kids to do. As adults, safety behaviors have become more instinctual rather than methodical.
Younger children, for example, haven't developed the ability to accurately judge distance or speed. They are also more likely to dart out into the street to collect a ball thinking a car is traveling slower than it actually is (Cajigal, 2021).
It's important for parents to deliberately teach and verbalize their walking behaviors as they're doing them. Children may not pay attention while a parent is crossing the street. You may naturally look left, right, left, but children may only notice that you've moved into the crosswalk without taking those precautions.
The following practices are things that can easily be verbalized:
Put away all distractions
Look for pedestrian signs and signals
Always cross at the crosswalk
Stop at the curb
Listen for cars and emergency vehicles
Look left, right, and then left again before crossing the street
Wear reflective gear when visibility is poor
Pause at driveways to check for cars pulling out
There's no doubt these are great reminders, but what about our older children ages 12 to 14? Do they need these reminders, too?
YES!
They won't need you to verbalize your walking behaviors, but a reminder about safety helps put it top-of-mind and that's what we're shooting for.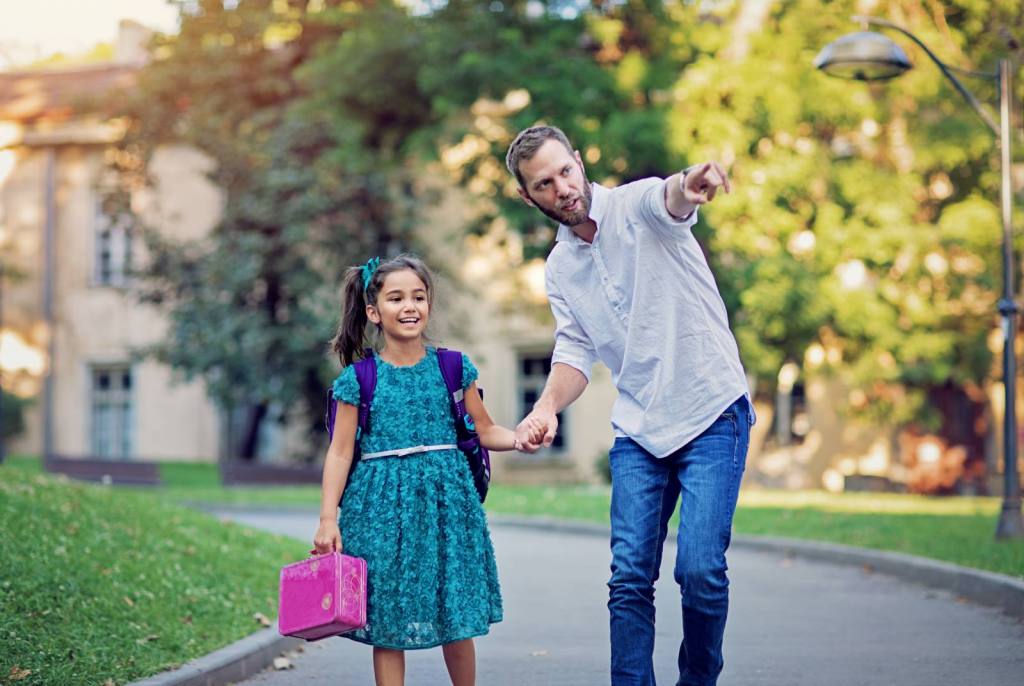 It's also important to encourage tweens and teens to put away distractions like cell phones and earbuds and to wear reflective gear—especially since middle school and junior high tend to walk in groups of three or more. With only two kids walking together children tend to focus so much on the conversation they can easily get distracted, so the more friends the better (Cajigal, 2021).
Finally, this is a great time for parents to help children identify their school's "Safe Route." These routes are the safest paths for students to take consistently. You can find your school's Safe Route here.
With the new school year, a refresher course on pedestrian safety is a great way to build your kids' confidence and give you peace of mind. For more helpful tips and reminders visit "School Zone Danger's You May Not Know About" or "Five Tips to Get Your Child to Wear a Helmet."
References
Cajigal, S. (2021, November 8). How kids can stay safe while walking to school. Children's Hospital Los Angeles. Retrieved August 15, 2022, from https://www.chla.org/blog/health-and-safety-tips/how-kids-can-stay-safe-while-walking-school