By Natalie Ockey creator of Utah's Adventure Family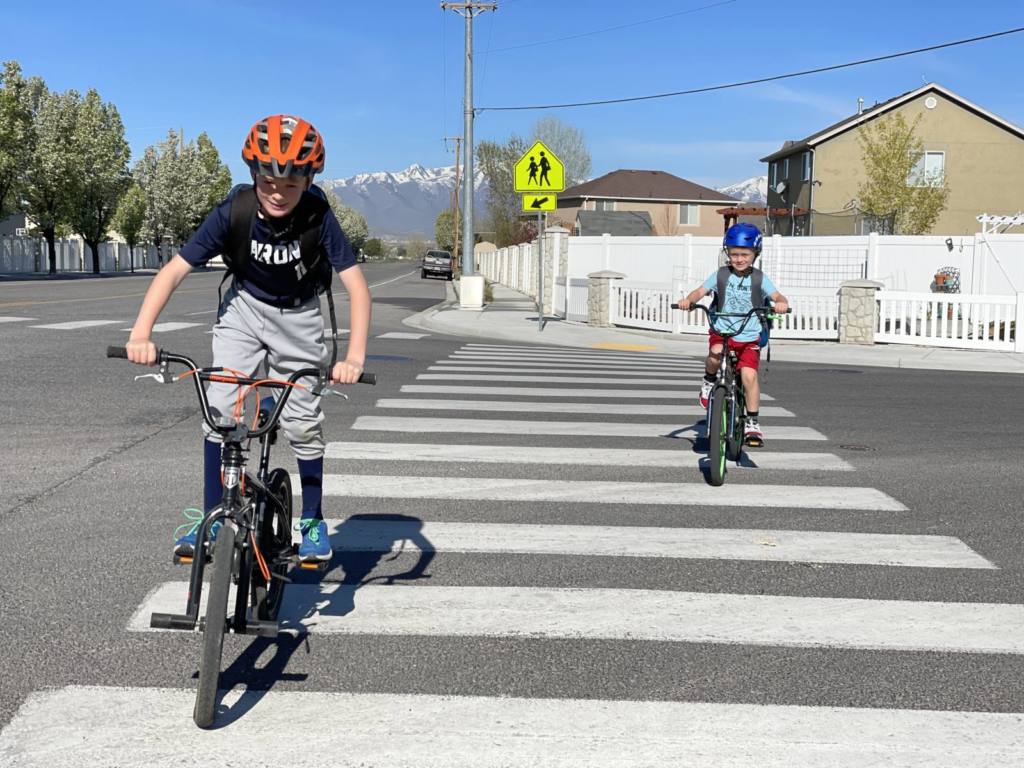 We are huge lovers of the outdoors! Every year we spend hundreds of hours outside hiking, camping, biking, exploring, and more. We truly believe that the outdoors helps us connect as a family as we step away from the busy-ness of life. It also gives us a chance to teach our boys lessons as we explore together. One of the lessons that we like to talk about is safety on the trail and in other activities. Our go-to resource is Safe Routes Utah and the materials and information they provide to keep kids safe while they are learning to love being outdoors.
Safe Routes Utah provides information about how to be safe on the road when walking and biking and a fun Walk & Roll Challenge. They encourage children to wear their helmets the correct way, find a safe walking or biking route to their local school, and how to use crosswalks correctly. The Walk & Roll Challenge even provides cool rewards just for learning to be safe outside.
Our boys are definitely motivated by the Walk & Roll Challenge because they have a chance to win! We keep track of the days that our boys bike to school, and at the end of each month we enter the total online. Then Safe Routes chooses participants to win scooters, bikes and bike helmets. New winners are chosen each month of the school year.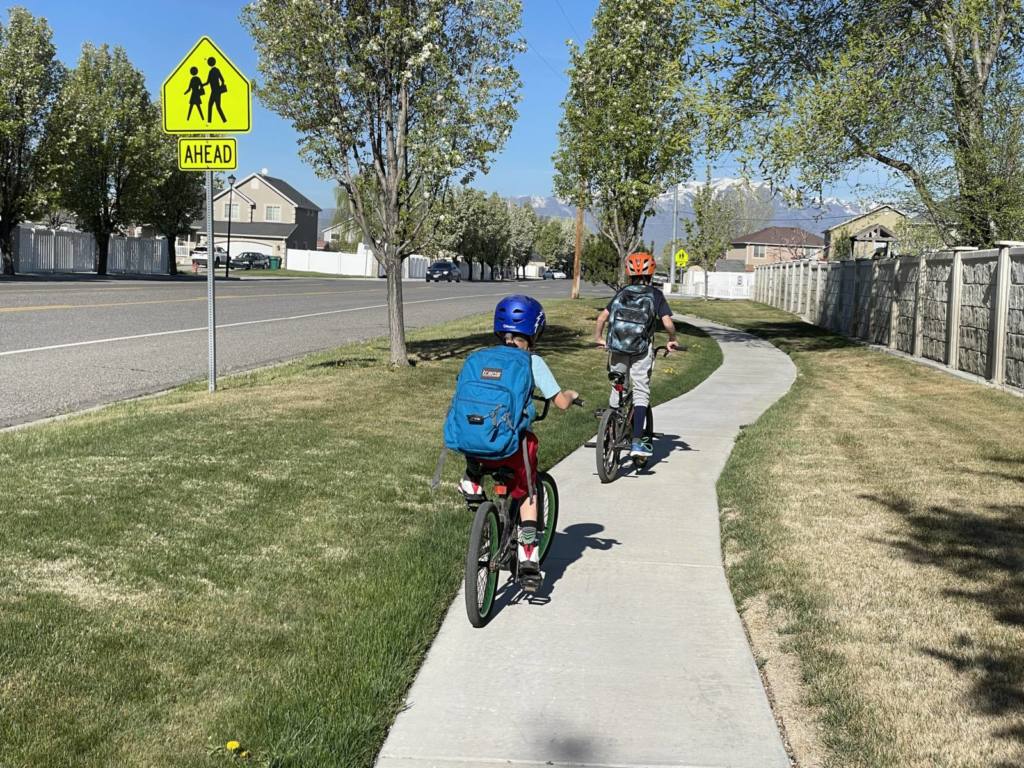 Like us, Safe Routes also promotes spending time outside. When kids are biking or walking to school, they are getting some extra time in nature. Walking and riding to school also helps cut down on crowded school parking lots and puts less pollution in the air from cars driving to and from the school. As you know, we are big proponents of anything that helps keep the earth healthy.
Aside from the Walk & Roll Program and its prizes, Safe Routes has many resources on their websites for kids, parents, PTA boards, and schools. They provide many resources in order to promote safety for children in the community, and of course, everything is free. A few of our favorites are the safe walking routes maps on their website. We use these maps with our boys as we prepare to ride to school each year. The maps show where all of the crosswalks are, and mark stop signs and yield signs so our boys know the safest route to school. Of course, the maps also indicate where crossing guards are located.
We hope that as we teach our kids safety on the trails, and they learn about safety on the sidewalks from Safe Routes Utah, these lessons will transfer into their driving skills and other aspects of their lives, too. For ideas on how to encourage your families to get outside, check out our hiking tips for families. You can also read more about the Safe Routes Walk & Roll Challenge and start using this program to encourage your kids to ride or walk to school.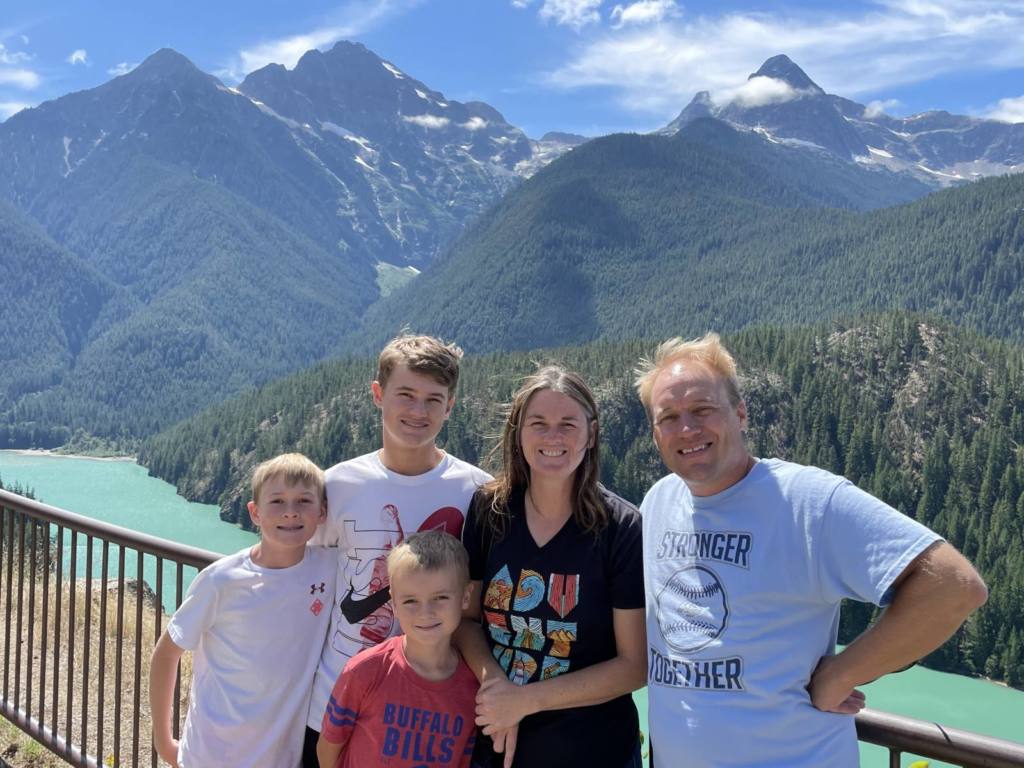 Our Guest:
Our guest blogger, Natalie Ockey from Utah's Adventure Family is passionate about the outdoors and keeping her kids active. Her Utah's Adventure Family social media accounts give the best tips on places to hike, explore and get moving with your family. Natalie's kids also participate in the Safe Routes Walk & Roll Challenge to stay active daily during the school year.