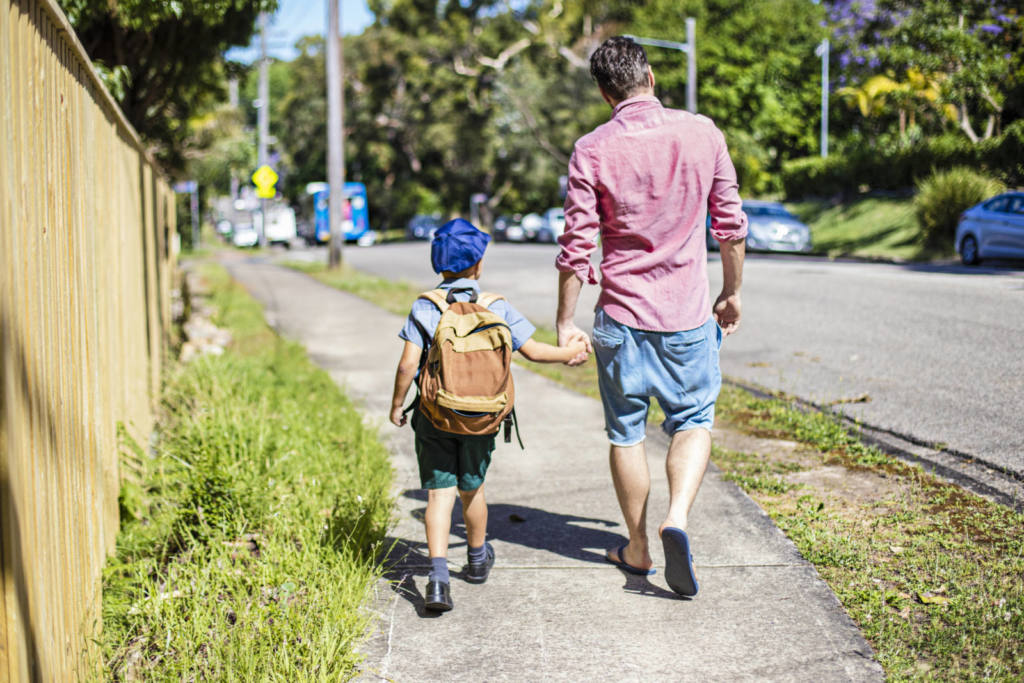 As we all know, this school year has been, in a word, hectic. Finding new routines and balancing new schedules has been difficult for parents and kids alike. The new school arrangements also have us reconsidering how our Walk & Roll Challenge should run (no pun intended) this year.
Our program encourages kids to walk or bike to and from school. It is also dedicated to their safety while doing it. Considering health a top priority, we have made a few modifications to the program to expand the ability to participate for kids and parents. So, continue to buckle those helmets, tie those shoelaces tight and use your Walk & Roll tracker. The challenge is still on.
The same main concepts from the program still apply. Walk or bike to and from school, and the more times you walk or bike to school in a month, the more entries your child has to win prizes at the end of the month. While this is still the essence of the program, we have new ways to participate based on your child's participation in school.
Rock the Walk & Roll Challenge:
In-Person Learners: can participate in the same way as years past by tracking each day they walk or bike to school or to and from the bus stop.
Hybrid Learners: can qualify for a daily entry by walking or biking to school on the days they attend school. On the days they are "at-home learning," they still qualify by biking or walking for 20 minutes outside.
At- Home Learners: can bike or walk outside for 20 minutes each school day to enter.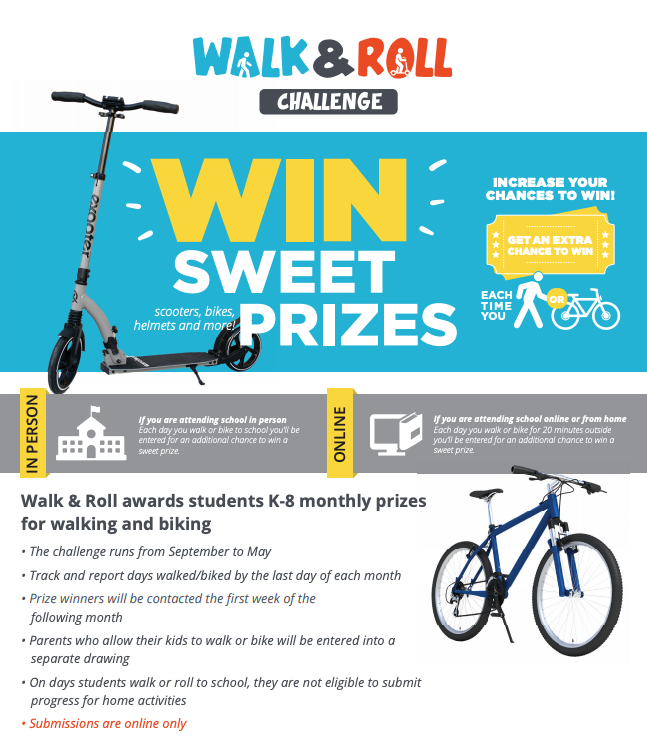 Be a Safety Super Star:
Even though the challenge looks a little different this year, it's still an excellent opportunity to get out, spend quality time with your child, and instill safety habits that help them become safe adults. We love giving away sweet prizes, but we also like to make sure kids are safe. Children learn many safety rules when they are young which translates as they get older, and even when they start to drive. The more familiar they are with the road laws, the better equipped they are to stay safe. With the additional way to participate in the Walk & Roll Challenge this year, it allows for a variety of ways to teach and review safety. It's a good time to practice safety in different surroundings. Studies show that teaching by example is the best way to teach children. For tips on what to work on with your child, click here. You'll find tips and topics like the best places to be as a pedestrian and the importance of making eye contact with drivers. Probably most importantly, a helmet is always a necessity when rolling. That includes biking, scooting and rollerblading or skating.
Getting Started:
Because health is so crucial this year, the Walk & Roll Challenge is ideal for implementing physical distancing and spending time with the kids. With schedules and routines different, we are here to make rocking the challenge easy. Just follow these steps to get started.
It's just a few clicks to get started, and then it's one step at a time to health benefits, quality time, a safer way to get to school, and, of course, sweet prizes.